Making a Splash Park Dream a Reality
Over a year and a half ago, Jacob Miller of Reedsburg was struggling with cancer. It was discovered in January of 2017 after a tonsillectomy when he was then diagnosed with Stage 2 Burkitts Lymphoma. Jacob had both spinal tap and bone marrow procedures to determine the spread of the cancer which both came back clear of any cancer cells. Jacob then underwent several rounds of chemo.
Jacob, who is now 10 years old is the son of Josh and Pamela Miller from the Reedsburg area. A cookout fundraiser was held for him in April that year at Viking Village Foods. During his fundraiser, his mom Pam along with Jacob became good friends with Pam Coy. After Jacob completed his treatments, he wanted to do something for all the kids in Reedsburg who had been so supportive of him during his battle.
His dream was to have a splash park in Reedsburg that would be available for all kids to enjoy!
It Was Meant to Be
When Jacob and his mom mentioned the idea to Pam Coy from Viking Village, she too thought it would be a great idea and wanted to bring his wish to life! There was obviously a reason that these three came to meet – because a Splash Park was meant to be for REEDSBURG!
Just recently they were able to present this idea to Mayor Dave and Matt Scott who also liked the idea. The mayor and Matt have now met with MSA and the planning is starting to roll. Jacob has been busy working on names and design ideas for the splash park.
Off to a Great Start!
Hopefully, there will be many more fundraisers for the park. Stay tuned, and follow us on Facebook for updates!
Jingle Mingle Donation 2019
$5,998.81
The annual Jingle Mingle Bourbon Auction held Dec. 6th raised $11,455.62! Half ($5,727.81) went to, the Reedsburg Area Food Pantry and the other half to the City of Reedsburg Splash Park Fund. The Jingle Mingle Cookie & Donut Decorating also raised $271.00 for the park project.
Silent Auction Fall 2019
$348.00
The annual Viking Liquor "Bourbon, Brews, & Corks" Silent Auction held in early October raised $348.00! Another nice total to be added to the City of Reedsburg Splash Park Fund.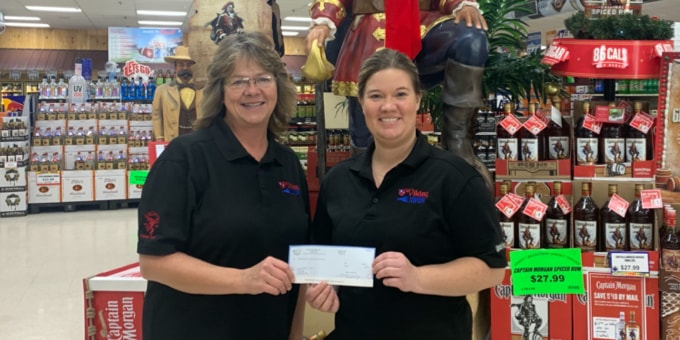 Knuth Construction 2019
$800.00
Stephanie Knuth from Knuth Concrete & Construction presents a donation check for Reedsburg's Splash Park Project to Larry Crawford from Viking Village Inc. Absent was Ike Knuth from Knuth Concrete & Construction
Viking Grille 2019
$918.10
The kids pictured and Larry Crawford worked very hard this summer operating the brat stand at Viking Village Foods-Reedsburg. In this picture, they are presenting a check to Tim Becker for the profits= $918.10 to put in the Reedsburg Splash Park fund.
Bourbon, Brews & Corks 2018
$1467.00
Pam and Viking Village Inc. will be doing what they can to help make Jacob's splash park dream become a reality. A fundraiser was held at Viking Liquor in Reedsburg as part of their annual event, "Bourbons, Brews and Corks". The liquor store donated a collection of items that were held in an auction on September 26th, 2018.