Fresh Cut Meat
7 Days A Week
Where's the butcher? Right here! We have six professional Meat Cutters on staff, available seven days a week. Our meat cuts are second to none and state-inspected twice a week, ensuring a Meat Department you can trust!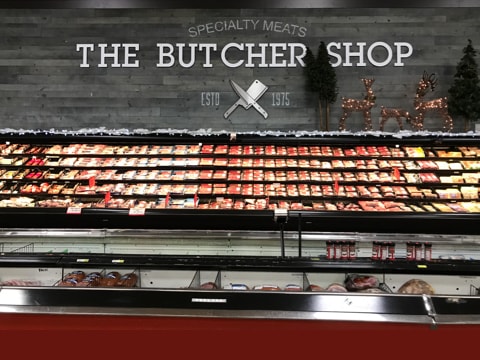 Viking Village Foods offers only the best, U.S.D.A. choice pork, beef, and chicken. Our beef selections are exclusively Certified Angus Beef® (CAB) brand quality. CAB is the first Angus brand that is owned by the American Angus Association that currently represents nearly 30,000 of America's Angus ranchers and their families. You can be assured that every bite will be flavorful, juicy and naturally tender.
Be sure to check our Weekly Ad for savings on many items and watch for our special meats sales.
Special Cuts, Special Orders
Do you have a question about a particular cut of meat? Ask one of our skilled butchers – they know their business and will help you choose the right cut and size to suit your needs.
Seafood
Our seafood area always reflects the what is currently available and is delivered twice each week to ensure that "fresh caught" flavor. We have numerous seafood sales throughout the year – an ideal time to stock up on your favorites or to try something new.
Quick & Easy Meals
Made fresh for you in our Meat Department. Choose from cuts of meat or fresh seafood complete with instructions and seasoning. Makes meal prep quick, and oh, so tasty!
We understand with hectic schedules today, making great meals can be a challenge. Or possibly you have a special occasion and want to ensure the meal turns out just right. We've got the answer.
Just look for the "Quick & Easy" signs in our Deli, Meat, and Produce departments.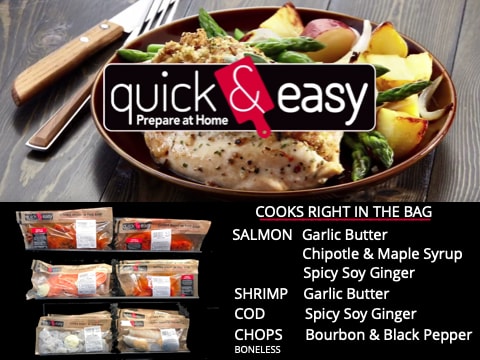 Give the Gift of Fresh Cut Meats!
Need a gift for someone special or to show a team member or client how valued they are? Choose from our assortment of Meat Boxes or Meat Bundles – a unique and tasty option. This is one gift you know will be appreciated and enjoyed. Talk to our Professional Meat Cutters to order your choice today. Stop in or call (608) 524-6108   3 Day Pre-Order Required
Meat Gift Boxes
Fresh cut meat selections boxed and ready to give. Choose a bottle of wine from our Beer & Wine department to make it a complete meal! (wine sold separately)
Bundle 1
2-3# pks Rump Roasts
8-1# pks Ground Chuck
1-6# boneless Pork Chops
1-5# boneless Chicken Breast
1-4# bone-in Pork Butt
$75.00
*no substitutions
*weights are approximate
Bundle 2
1-3# Chuck Roast
1-4# Prime Rib
1-3.5# whole Beef Tenderloin
1-4# Pork Butt
2-3# pks Rump Roasts
$115.00
*no substitutions
*weights are approximate
Bundle 3
1-4# Chicken Breast
1-4# Ground Chuck
1-4# boneless Chops
1-4# Pork Butt
1-4# Rump Roast
$50.00
*no substitutions
*weights are approximate
Sausage Hunters Bundle
1-3# Bacon
1-3# Homemade Breakfast Sausage
1-3# Homemade Italian Sausage
3-pks Klement's Snack Stix (original, beef, teriyaki)
3-pks Klement's Summer Sausage (original, beef, garlic)
2-pks Klement's Ring Bologna (original, garlic)
$50.00
*no substitutions
*weights are approximate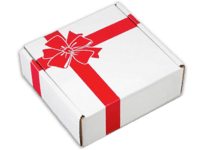 You may also stop in or call to have a meat package customized! *prices and packages subject to change
Have it boxed & bowed for an additional $5.00
Looking for other unique gift ideas?
Our Deli, Produce and Gift Departments offer unique Food Baskets and Boxes!
Stop in to find out how you can create a personalized gift.
Zakk Boosell
Meat Manager
We are busy daily creating fresh cuts and grinding hamburger at least twice a day. Our prices are competitive and our beef is always Certified Angus Beef. We also receive fresh seafood deliveries twice a week.
Zakk's Tips:
Watch for our three day or week long meat sales and special seafood sales throughout the year.
If you can't find something just ask, we're willing to bring in new requested items.