RAMC Viking Pharmacy
Located Inside Viking Village Foods
HOURS
Monday – Friday: 8:00am – 7:00pm
Saturday – Sunday: 9:00am – 5:00pm
(608) 524-6868
RAMC Viking Pharmacy Services
Free, Individualized Blood Pressure & Blood Sugar Screenings
Immunizations (ages 6 years and older)
Tobacco Use Treatments
Free Medication Review & Personalized, One-On-One Education
Over-the-Counter, Dye-Free Products for Adults and Children
Convenient, Automated Prescription Refill Phone Line – call 524-6868 and follow the easy instructions
For A Limited Time!
Transfer your prescription and receive a FREE, $25 Viking Village Foods Gift Certificate!
*Exclusions apply – $25 gift certificate promotion not valid for transfers from RAMC's Community Pharmacy or from government funded insurances. Other exclusions may apply. See the pharmacist or call us for details. One gift certificate per person.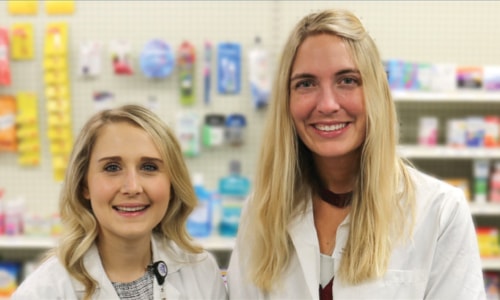 Your Pharmacists
Tisha McGettigan, PharmD (l)
Hayley Vrochota, PharmD, CTTS (r)
Viking Village Foods Cares About Your Health
Visit the Healthy Living section of our blog for information and tips on living healthy.