Wedding Cakes & Design
Wedding cakes from our bakery are always made from scratch and decorated to your specifications. We believe designing your cake should be fun and stress-free. It starts with a call, or a stop by our bakery counter to schedule your design consultation. Then, on the day of your appointment plan to come hungry for cake!  There will be tasting samples along with advice and tips from our professional cake decorators.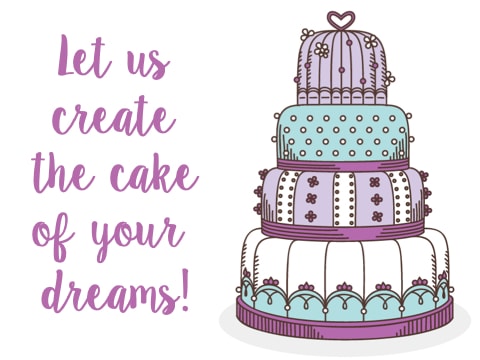 Our goal is to make this part of your wedding planning go smoothly and ensure your individuality is expressed. We do appreciate a one month notice for wedding cakes for ordering and scheduling purposes. Call (608) 524-6108
Consultation & Tasting
Please call ahead to make an appointment so we can prepare tasting samples and have sufficient time to help you plan your very special event. There is a $20 tasting fee for a max of 4 people.
Cake Design
Viking Village has an assortment of cake designs to choose from. However, we encourage you to bring in images, swatches, or any form of inspiration that will help us create a unique for your special day.
Options