Fresh Crafted Bakery
Tasty cookies, fresh donuts, moist cakes, muffins, rolls and breads – all crafted by our master bakers and made fresh daily. Watch our cake decorators in action! Our glass enclosed bakery allows you to view the skilled design process involved in the creation of wedding cakes, photo cakes, cupcakes, special occasion cakes and more.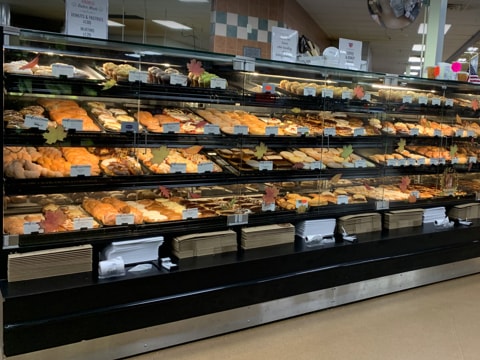 Specialty Breads
Gail's Artisan Grain Bread, Sour Dough, White Rye, Pumpernickel, Alpine 7 Grain, BP's Sunflower Bread, English Muffin Bread, German 10 Grain, Buttercrust, & Cracked Wheat. Make sure to look for our special seasonal breads also.
Muffins
Moist, tasty, and oh so good…Apple Cinnamon, Banana Nut, Blueberry, Buttered Rum, Double Chocolate, Double Chocolate Chip, Lemon Poppyseed, and Pistachio. MONDAY MUFFIN MADNESS 99¢ ea. Every Monday! (reg. $1.29 ea.)
Fresh Bakery Items
Freshly baked buns, rolls, cookies and bars can be ordered ahead for your special event. Ideal for meetings and gatherings of all sizes. Call ahead for special pricing on large quantities of muffins and pastries. FRESH BAKERY MENU
Daily Flavored Donuts
Tasty Crispy Willie Donuts are sure to put a bright spot in your day. Our Crispy Willie maker pops out fresh cake donuts seven days a week. These delectable morsels of flavored delight appear right before your eyes. VIEW TODAY'S FLAVOR
Cakes & Desserts
Our bakery offers a wide variety of cakes in assorted flavors to choose from with experts that can help you mix and match designs to create a truly unique cake for your special occasion. CAKES & DESSERTS MENU
Order Cakes Online
Choose from limitless possibilities. Create your own unique cake design! Order online from home or at the cake kiosk in our bakery. Our expert cake decorators will create your vision and have it ready for you. DETAILS
Wedding Cakes
Schedule an appointment with our bakery staff to create your unique wedding cake. Plan to come hungry for cake – we'll have tasting samples on hand and helpful advice to make this a fun part of your wedding planning. WEDDING CAKES
Ready Made Cakes
Need a cake today? We offer a wide selection of ready made cakes for almost any occasion. We'll be happy to add a special message to personalize your cake.
Can't find what you're looking for in our bakery department?
Let us know and we will try to bring it into our store.
Viking Village is proud to accommodate new products for our customers!