FRESH BAKERY
Tasty cookies, fresh donuts, moist cakes, muffins, rolls and breads – all crafted by our master bakers and made fresh daily.
Watch our professional cake decorators in action behind our glass-enclosed bakery. Observe the design process involved creating wedding cakes, photo cakes, cupcakes, special occasion cakes, and more.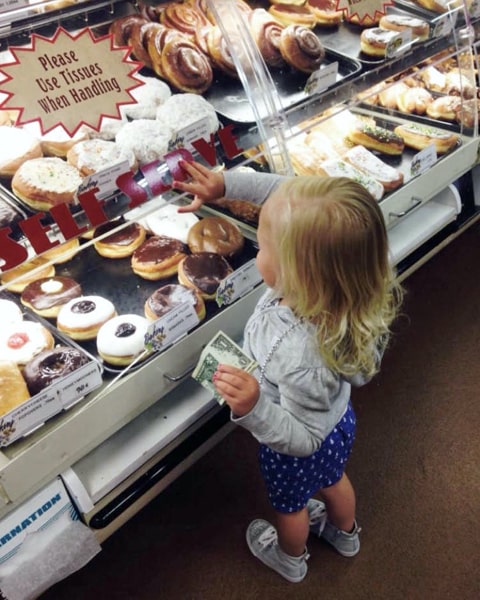 BAKERY SPECIALS
COFFEE & DOUGHNUT DAILY SPECIAL $1.99 12 oz. Coffee and Donut
EVERYDAY MIX & MATCH DEAL $1.00 ea. (dozen or more) Donuts, Muffins, Scones
MONDAY MUFFIN MADNESS 99¢ ea. reg. $1.29, Every Monday
FRESH BAKERY CASE
Doughnuts, Scones, Turnovers, Bagels, Croissants, Eclairs and moist, fresh-made muffins in flavors such as Apple Cinnamon, Banana Nut, Blueberry, Buttered Rum, Double Chocolate, Double Chocolate Chip, Lemon Poppyseed, and Pistachio.
SPECIALTY BREADS
Gail's Artisan Grain Bread, Sour Dough, White Rye, Pumpernickel, Alpine 7 Grain, BP's Sunflower Bread, English Muffin Bread, German 10 Grain, Buttercrust, & Cracked Wheat. Make sure to look for our special seasonal breads also.
READY MADE CAKES
Need a cake today? You'll find a wide selection of ready made cakes for most any occasion as well as cupcakes, decorated cookies, cheesecakes, ice cream cakes and much more – we've got you covered. Choose one you like and we'll be happy to add a special message to personalize your cake.