Sushi Made Fresh Daily
Our own specially trained Sushi With Gusto chef is here every day from 10:00am to 6:00pm creating fresh, delicious, and beautiful menu items while you watch. Grab-'n-Go packages are available from the cold case anytime. Need a large selection and size? Party trays can be made for pick up by ordering ahead.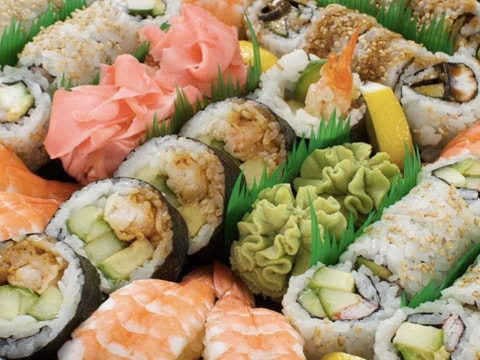 What is Sushi?
It is an ancient Japanese cuisine that literally means "vinegar rice". This vinegar-seasoned rice is then combined with a variety of vegetables and seafood. Some, but not all combinations do include raw seafood – cut in very thin bite-size slices which are called sashimi. Sushi is best when eaten the same day you purchase it.
It can be made in different styles, and along with the rice may include: cooked fish and other seafood, vegetables, nori (dried and pressed seaweed in sheets), seasonings and sauces, and even flavorful additions such as cream cheese or avocado.
Nigiri
A hand-formed mound of rice with a slice of seafood on top. Toppings can include raw or cooked fish, tuna, salmon, shrimp or BBQ eel.
Maki
These are rolls containing rice, nori, vegetables and/or seafood.
Uramaki
A hand-rolled sushi that contains seafood, nori, and other items wrapped in rice.
Inari
A cooked soybean curd pocket that is seasoned with a lightly sweetened soy sauce and filled with rice, and possibly other ingredients.
Sushi With Gusto Party Trays
To make sure we can accommodate your request, please order your party tray 24 hours in advance.
Customize a party tray for your next big event!
Assorted Rolls
79 pieces

This mixed tray is ideal for a group with diverse tastes – beginners and experienced eaters alike will find something to enjoy.

Beginner Cooked
36 pieces

This tray is the perfect way to introduce sushi to beginners – made of an assortment of cooked sushi rolls, easy for all to eat and enjoy.

Professional Nigiri
28 pieces

A delectable mix of nigiri with everything from tuna and salmon to shrimp and eel. It's what most think of when they think of sushi.

Assorted Special
62 pieces

The most variety of all the party trays, featuring a little bit of everything – cooked rolls, spicy rolls, nigiri, vegetarian and inari.

Hot & Spicy
48 pieces

Delicious spiced rolls are what makes this a perfect choice for your next get-together.

Vegetable Garden
71 pieces

The ultimate vegetarian choice for party trays, featuring an array of vegetable combinations along with inari.
Every Wednesday
$5 Specials
California Roll
White & Brown Rice
Veggie Roll
White & Brown Rice
Spicy Shrimp Roll
White & Brown Rice
Spicy California Crunch
White & Brown Rice
9 Piece Sampler
Raw & Cooked
1/3 California Roll
1/3 Salmon Cado
1/3 Tuna Cado